Netherlands: A World of Color
Tour Information
From the vibrant city of Amsterdam to icons of the Dutch countryside, this photography workshop will cover some of the most photogenic sites in the Netherlands. 
Join us as we roam the tree-lined canals and narrow streets of Amsterdam by day and night, visit picturesque villages and experience a world of colours as we explore the unforgettable flower fields.  
Whether you're an experienced, amateur or beginner photographer, you will add to your portfolio with an incredible array of images, learning composition techniques with the assistance of an award-winning photo guide in this unique workshop. 
Package this together with our 5-Day France: From City to Coast photography workshop beginning 5th April 2020 for a reduced price. 
Highlights:
Exploring Amsterdam's unique canals and waterways

 

Beautiful streets filled with historic landmarks and crooked houses

Tulips and flower fields in a world of colors
Iconic Dutch windmills
Travel, architecture and landscape photography
Learn techniques for shooting during golden hour, sunrise/sunset and night
Small group size
And More!

 
Please note that the full amount is due 60 days prior to tour start
A 3% charge is added using this service. Please contact us if you prefer other payment options.
Included:
Professional photo guide
3 nights hotel accommodation (based on single occupancy)
Breakfasts at hotel stays during the tour
Post-processing session
Transportation during the tour
Entrance fees to select photo locations
Excluded:
Airfare to/from Netherlands
Transfer from/to airport
Food and beverages (other than breakfasts)
Admission fees to attractions not listed as part of workshop itinerary
Visa and travel fees (if needed)
Travel Insurance
Medical expenses (travel/medical insurance highly recommended)
Gratuities for photographer guides, local guides and/or drivers
Anything else not stated in the inclusive section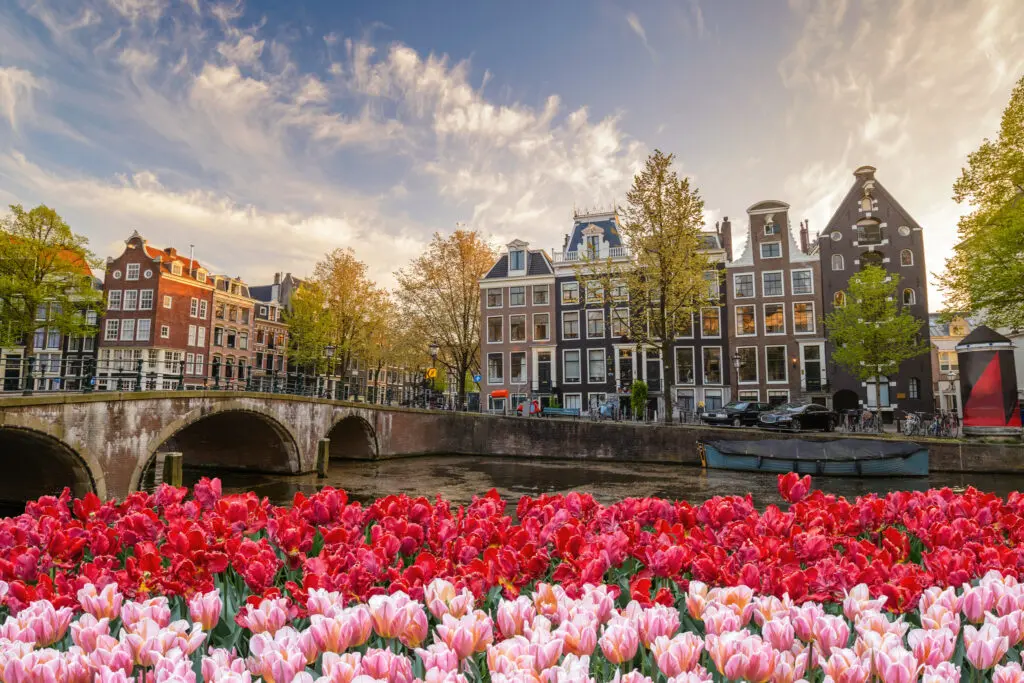 Day 1 – April 11, 2020
Amsterdam
The workshop starts in the city of Amsterdam. 
After meeting our guide in the morning, we will spend our first day roaming the city for an array of photo opportunities among the labyrinth of 400-year-old, tree-lined canals and the narrow streets full of charming houses and historic buildings. 
There will be free time in the afternoon to relax or explore Amsterdam at your leisure before we meet again to capture more of the city as the day shifts from Golden Hour to sunset.  
At dusk, Amsterdam comes to life and it's our favourite time of day to shoot. 
The canals are alight with the warm glow of streetlamps, and there are so many opportunities to capture outstanding images. We will finish our incredible first day by staying out late, finding creative compositions, capturing reflections, and shooting the light trails of boats passing by.
Day 2 – April 12, 2020
We begin the day early with a sunrise shoot, followed by a post-processing session where our guide will go through techniques and their workflow.  
There will be free time to relax or visit one of Amsterdam's many attractions before meeting the group in the late afternoon to continue exploring more of Amsterdam's iconic canals and landmarks. 
The city will be vibrant at this time of year, with pops of Spring flowers providing us with perfect foregrounds for our compositions.  
We will stay out late, finishing our day with another sunset shoot and more night photography.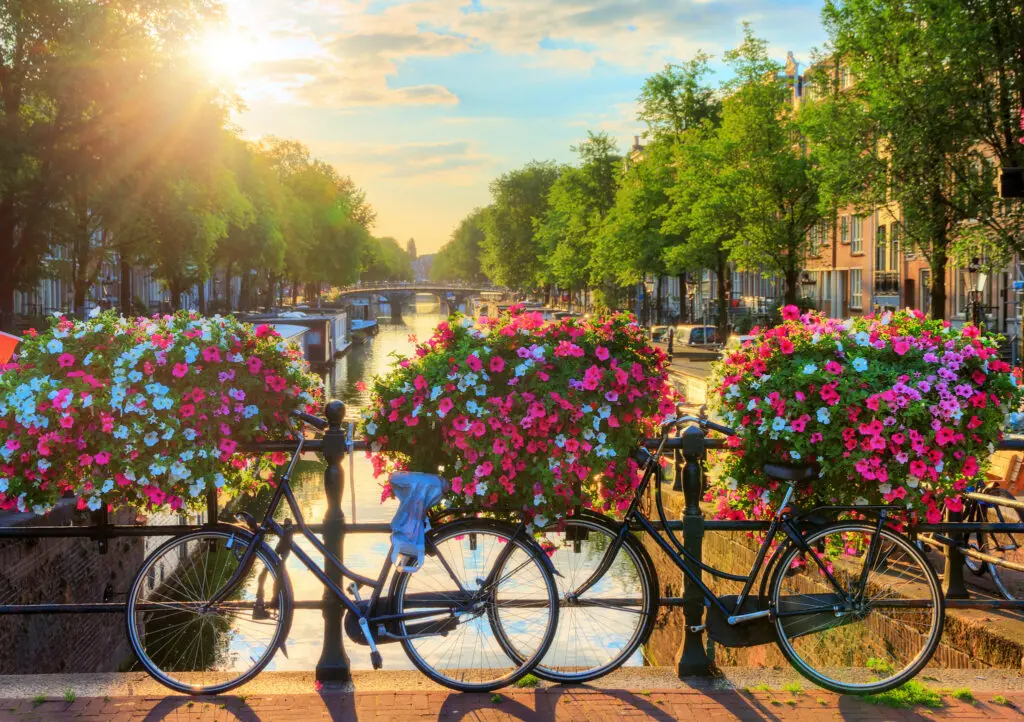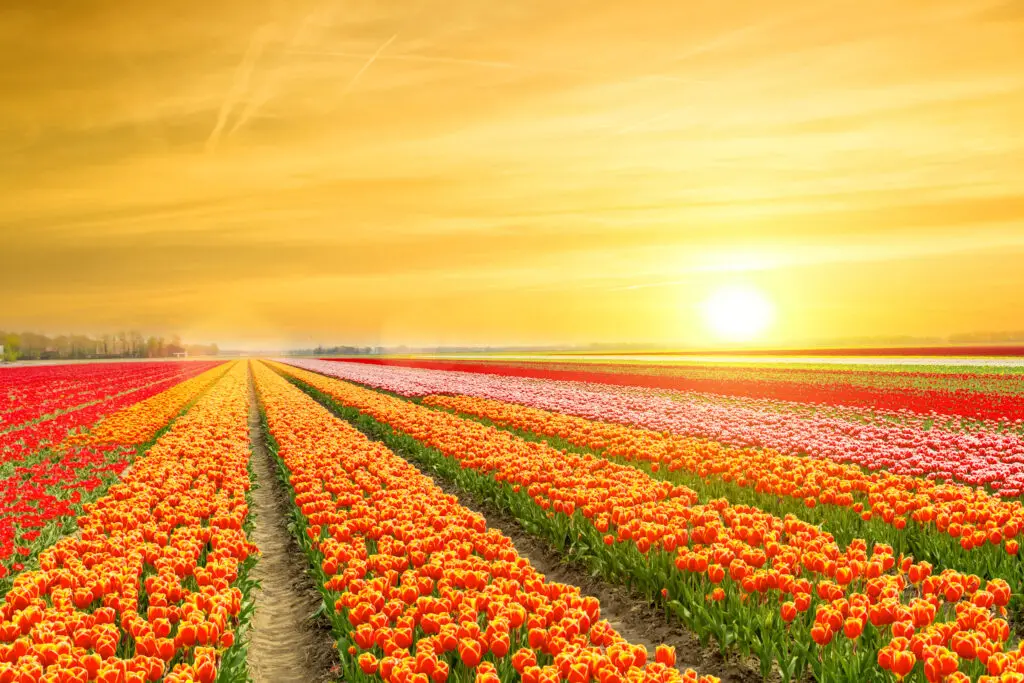 Day 3 – April 13, 2020
Windmills and Tulips 
Our itinerary for the rest of the workshop will be flexible in order to make the most of the conditions and the flowering of the bulbs, which is completely dependent on the weather. 
 We begin the day early with a sunrise shoot at the Zaanse Schans museum – a small, picturesque village of traditional wooden houses, workshops, and farmsteads that depict 18th Century life in the Netherlands. 
It is most recognizable for its row of majestic windmills that line the river, and it is sure to be an unforgettable experience as we photograph them in the soft morning light. 
 We will have some free time to relax before travelling out to the countryside to experience some iconic Dutch scenery. 
 No visit to the Netherlands in Spring would be complete without seeing the flowers fields of pastel pink and purple hyacinths, yellow daffodils and vibrant tulips exploding in a world of colour. We will scout for the best vantage spots, finding the areas with vast rows of flowers and those that have rainbows of colour. This will be our last shoot for the day, and we will stay out through sunset to capture these beautiful flowers in the golden light.  
Day 4 – April 14, 2020
Windmills and Tulips 
We will spend our last day exploring the Dutch countryside for more opportunities to capture windmills and tulips, starting off at sunrise. 
 We will then make our way back to Amsterdam in the afternoon to the final drop-off location where you can choose to fly home or spend a few extra days in the city. 
 Without a doubt, our last day will be bitter-sweet as we head home with plenty of happy memories and memory cards full of amazing shots.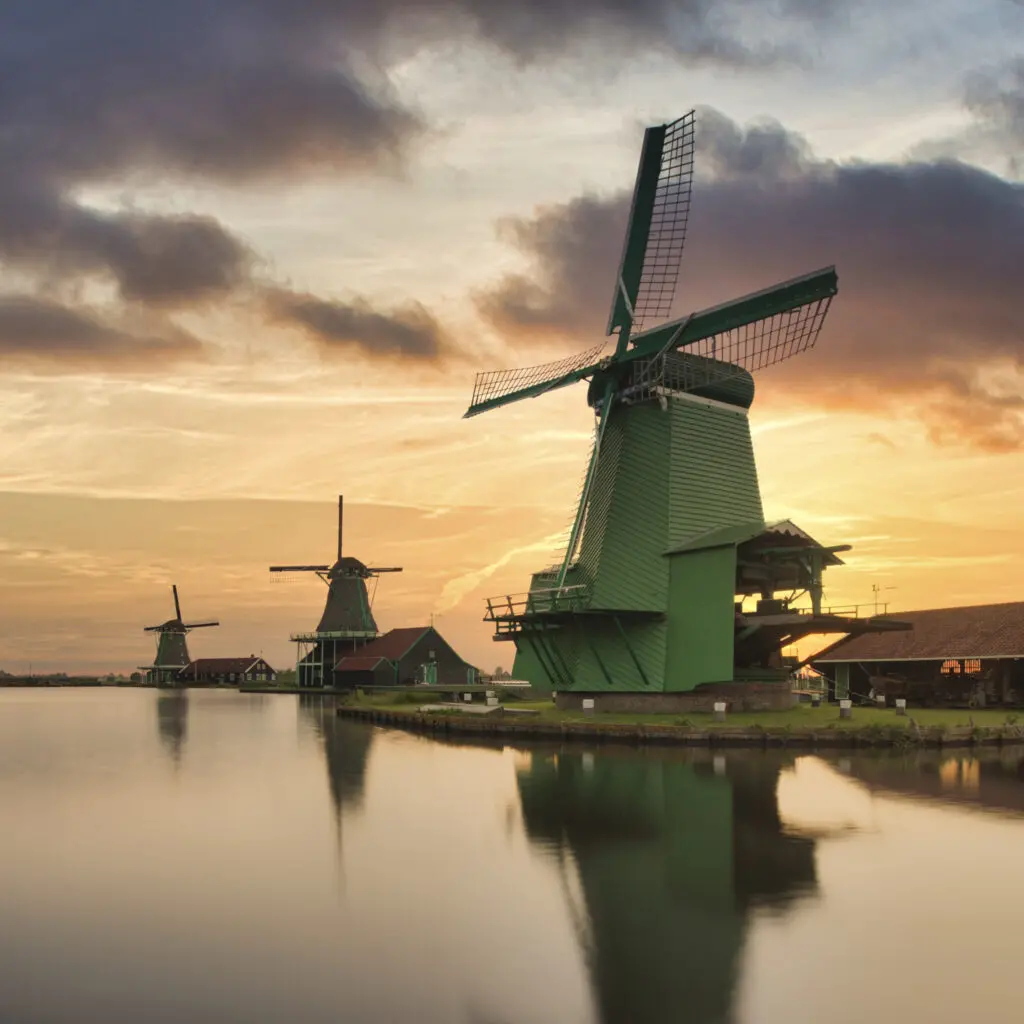 We will be staying in clean, comfortable hotels throughout this trip. Hotel pricing is based on single room occupancy.
Mild to moderate hiking is required to reach some locations.
Our workshop guides are Red Cross CPR and First Aid certified, and we carry a two-way satellite communicator and beacon for emergencies.